Wat stop je erin?
1 gele ui, fijn gesnipperd
150 g oesterzwammen, in kleine reepjes getrokken, en 50 g kastanjechampignons, fijn gesneden. Scheutje olijfolie, extra vierge en laag in oliezuur
1 flinke tl kerriepoeder
Snufje nootmuskaat
1 groentebouillonblokje (zonder MSG etc!)
Zwarte peper naar smaak en evt. een klein beetje Himalayazout
200 ml water
50 g lupinemeel, gezeefd
1 flinke tl agar-agar of ½ el rundergelatinepoeder
2 eieren, losgeklopt
50 g zonnebloempitten en 50 g pompoenpitten, gemalen tot paneermeel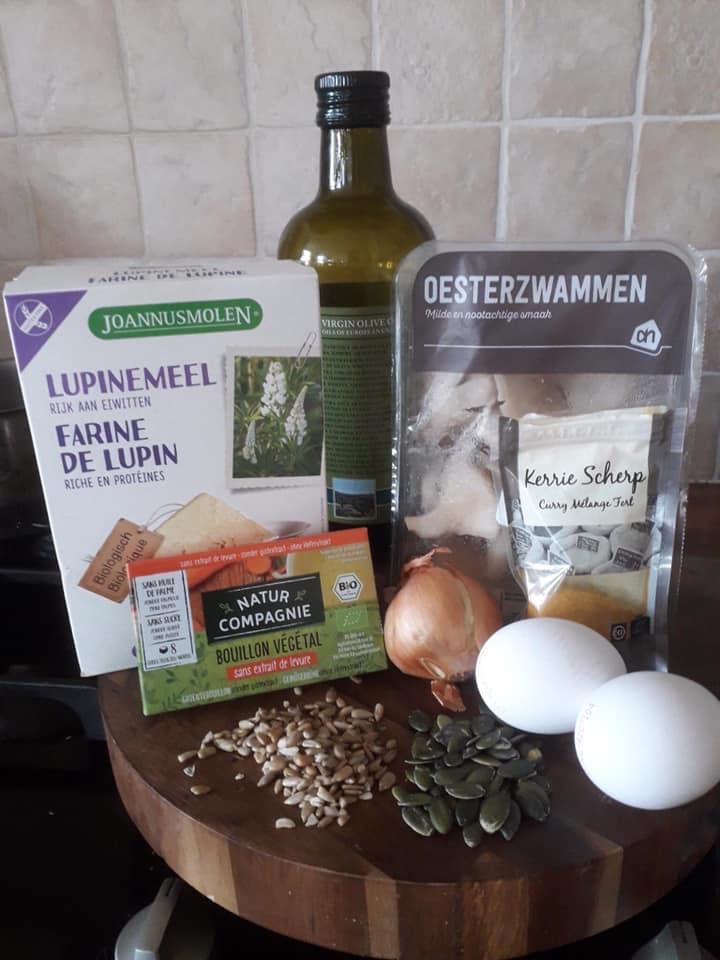 Hoe maak je het klaar?
Fruit de ui in de olijfolie, samen met de paddenstoelen.
Voeg kruiden en bouillonblokje toe, voeg meteen het water toe, breng aan de kook en roer goed door. Voeg dan beetje bij beetje het lupinemeel toe; blijf roeren totdat er een stevige ragout ontstaat. Voeg de agar-agar of gelatinepoeder toe en roer door.
Als het lupinemeel aan de bodem lijkt te gaan plakken, is de ragout klaar.
Laat afkoelen en bewaar een nacht in de koelkast.
Vorm met je handen 8 kroketten uit de ragout; rol ze goed stevig.
Rol elke kroket door het pittenmengsel, dan door het ei, en vervolgens nog een keer door het pittenmengsel; zorg dat alles goed bedekt is en vergeet de zijkanten niet.
Bak de kroketten in de airfryer op 160 graden, 10 minuten, draai ze om en nog 10 min.
Of in de oven op 160 graden, 20 minuten, draai ze om en nog 20 minuten.
Voedingswaarde p.p.
½ portie Eiwitrijke voeding
½ portie Veilige Vetten
1 portie Reinigende Vezels
Tip
De kroketten bevatten wel wat groente maar de hoeveelheid is zo minimaal, dat het niet geteld hoeft te worden. Echter niet gebruiken op KD1. (Ketosedag 1 van De EetLijn Methode)
Je kunt de kroketten ook 'paneren' met amaranthvlokken. Iets neutraler van smaak maar wél knapperig.
EetLijn Smakelijk